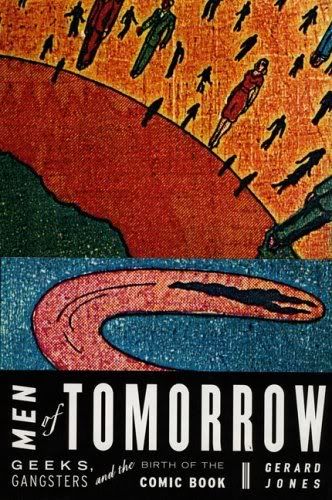 Over the holidays I sped through a delightful popular history of the early comic book industry, Gerard Jones's
Men of Tomorrow: Geeks, Gangsters, and the Birth of the Comic Book
. Packed with fascinating biographical details about the men (they were all men, it seems) who put together this mass medium, the book benefits from a fluid and propulsive prose style, sophisticated ideological assumptions, and a great deal of very smart research.
What I want to note here about the book is a strange textual characteristic that has been around for a while but has recently become increasingly common in scholarly works published by non-academic or semi-academic presses: rather than footnotes or endnotes, the text is supplemented simply by a "Notes on Sources" section at the back of the book. The only difference between this approach and traditional footnote/endnote practice is that there are no superscript numerals in the main text; thus the "Notes on Sources" section must reproduce the first few words of any quotation in order to identify its source. This practice seems to be less efficient, though it does have the aesthetic advantage of maintaining a certain uncluttered look on the pages of the main text. But I have been assured that publishers' actual motivation for preferring this practice is somewhat more troubling. Apparently bookstore browsers are turned off by the appearance of note reference numbers within the body of the text, because (or so the publishers believe) these numbers make the book seem like "work."
This is all by way of introduction to Bradford W. Wright's
Comic Book Nation: The Transformation of Youth Culture in America
. Published as it is by an academic press (The Johns Hopkins University Press), Wright's book stands by the traditional notation practice. Sadly, that's the only advantage the book has over
Men of Tomorrow
. Wright's text makes for boring reading by comparison to Jones's, though not for the reasons one might expect. In fact, the adherence to academic convention in notational style is the only way in which this book is more "academic." This is obviously a text written by a fanboy posing as a scholar.
I knew I was in trouble with this book when I read the following sentences in Wright's introduction:
While I am familiar with a number of theoretical approaches to "decoding" the meaning of popular texts, I find few of these very compelling, and I confess to finding more than a few bewildering and tedious. My basic theoretical assumption regarding audience is the rather simple but well-grounded contention that audiences consume particular forms of entertainment because they hope to find something pleasurable in the experience. (xviii)
As they say in the biz: No shit, Sherlock! That's scarcely a "theoretical assumption" at all, and I can think of no legitimate theory that would contradict it. Legitimate theoretical discourses, such as psychoanalytic criticism, attempt to explain what that pleasure consists in, and why audiences seek particular forms of it. This Wright steadfastly refuses to do, preferring to rely on unexamined assumptions about what is or isn't "entertaining." His palpable distaste for critical thinking pervades this 300-page book, leading him to condemn many comics, creators, or even entire movements, as and even (a word that appears numerous times in the text) "self-indulgent." Sadly, Wright's stated aversion to theory doesn't prevent him from repeatedly misusing the word "deconstruction" when he means simply "critique." It's a common error in nonacademic discourse, but unacceptable in a scholarly text.
Although Wright pays lip-service to the now commonplace notion that comic books are a medium, not a genre or narrow range of genres (superhero, sci-fi, fantasy), his text frequently slips into privileging the "big two" (Marvel & DC) superhero offerings over all other comics. This is a mentality common to superhero fan culture, and it has been so roundly attacked in recent decades both by competent comics critics and even, increasingly, by mainstream journalists, that it is shocking to see Wright so frequently reproducing it in the later chapters of his text. The original 2001 hardcover edition ended with a sickeningly uncritical paragraph that reads like the closing sentences of an opinion column in a small-town newspaper. It's founded on a number of assumptions that constitute a crucial part of our culture's dominant ideology but are almost universally rejected by critical intellectuals. See if you can spot them all!
[A]s recent outbreaks of violence at Columbine and other high schools have so horribly illustrated, young people continue to face a confusing, lonely, and sometimes frightening world that so often seems to spin out of control. For many, adolescence can be an age of intense pain and isolation, when emotional demons must be exorcised either through fantasy imitating life or by real action imitating fantasy. Should the former alternative be exhausted or denied, then some may choose the latter, possibly with tragic consequences. In these times it is as essential as ever to offer young people a wide choice for self-expression within a culture of empathy, compassion, and imagination. In this culture, comic books do have a place. And they will endure so long as they bring out the superhero in us all. (280-281)
If the reader can choke back the little bit of throw-up that rose to the tongue as he or she read that passage, he or she may continue to the disgraceful epilogue added to the book's 2003 paperback edition: "Spider-Man at Ground Zero," in which Wright outdoes himself with the following final paragraph:
Can comic books continue to balance escapism and relevance in this frightening post-9/11 world? Will superheroes still hold the power to stir our imaginations and inspire our dreams? I hope so. For we need them now more than ever. (293)
This is poorly executed political rhetoric, not responsible scholarship. Johns Hopkins should be ashamed.
Within this gross epilogue lie a few pages of further details about post-1980 comics, addenda of the "oh yeah I forgot to mention…" variety. It's a shoddy patchwork applied to a textual boat that, someone must have informed Wright, was taking on water at an alarming rate, and it serves only to remind the informed reader at the end of his or her long slog just how incompetent Wright's survey has been. The epilogue contains the book's only references to such crucial comics events as
The Sandman
and even the existence of Dark Horse Comics and Image Comics. Of the latter companies we read nothing about creators' rights, only a brief list of licensed movie characters; the former, Neil Gaiman's magnum opus, we learn, "epitomized recent comic book culture at its best and its most frustrating" (the reader can sense Wright narrowly avoiding yet another repetition of his meaningless insult of choice, "self-indulgent"). Wright's statement that
The Sandman
"went relatively unnoticed by the mainstream" is every bit as bewildering any theoretical approach to understanding meaning. And the informed reader of his book will find his omission or denigration of any comic that doesn't offer simplistic and formulaic stories of heroism and villainry to be every bit as tedious.